WGR高温高压喷射自动染带机(立式染带缸,卧式染带缸)
WGR high temperature and high pressure jet automatic dyeing machine
The new overflowjet pipe, dyeing pipe and turning tube shift tube into one, there is absolutelyno dyed yarn knot winding phenomenon, dyeing down tube easily, the loss rate is low.
Suitable for stranding twisted polyester yarn, embroidery thread, silk, nylon and other hank bleaching, refining, dyeing, washing and reprocessing.
The machine uses a special design of lowpower ,low head, large flow mixed flow pump. High temperature did not affect its characteristics.
Special design of water regulator and visible dyed yarn and yarn count, different types of arbitrary size of the water volume.
The machine through structural optimization, bath ratio is small, saving raw materials, reduce costs.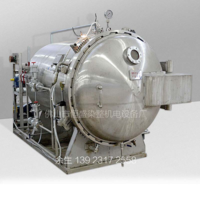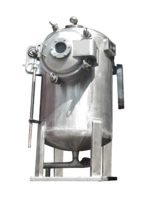 HS喷射染色(喷射式绞丝染色机、少管样机)
HSjet dyeing machine
HS sharp room temperature jet dyeing machine capacity of 5Kg-800Kg, the maximum operating temperature of 98 ℃ . Mainly used in light silk,rayon, spun silk, silk, single yarn, slender fiber length, flax yarn and mercerized cotton and other natural synthesis. Chemical fiber bleaching,refining dyeing. The device can adjust the bath ratio according to the yarn type and dyeing process, greatly saving energy such as water vapor and dye auxiliaries, reducing the emission and greatly improving the economic benefits.
主要特点:main feature
HS Series Jet Dyeing Machine adopts the energy-saving and efficient counter- flow pump designedby our factory, which has the advantages of largeflow rate and moderate lift, and avoids the color flowphenomenon caused by insufficient flow when high temperature gasification.
Ad hoc water flow regulating device, visual yarn type, count and hanging yarn size to adjust the waterflow to achieve the perfect dyeing effect.
ully automatic dyeing control will reduce the traditional degree of manual participation,and reduce theloss caused by human negligence, so that the heavy dyeing process can be guaranteed.
Note: the equipment can be designed and produced from 1/2 to 40 *2 stations and other irregular models.
HSjet dyeing machine function profile