Dryer
主要技术特性 Main techincal characteristics
Fast dryer forbobbin yarn adopts the advanced foreign technology and uses slightly pressurizedhot air through the yarn to evaporatethe moisture absorbed in the yarn andreacha predetermined moisture content. At the same time, a hot air circulationand air discharge circuit are designed to achieve the purpose of fast drying.This product also uses a computer automatic control system for easy operation.Main features are following:
烘干速度快 Fast drying
The drying time of each batch is about 2.5hours, which greatly improves the yield. Based on 640 packages per batch,thedaily output can reach about 4.8 tons under normal circumstances. Theevaporation capacity is strong. According to the calculation of the currentdrying room model, the evaporation capacity can reach more than 110kg / hour,which is higher than the 74.9kg / hour of the radio frequency machine, and farhigher than the traditional hot air dryer.
能源消耗低 Low energy consumption
This product adopts foreign advancedtechnology, using a hot air circulation system and superior thermal insulation measures.The main motor uses frequency conversion control and heating uses automaticcontrol valves to minimize the consumption of heat and power. The steamconsumption is kept below 200kg / hour (equivalent to 0.9 tons of steam and within1 ton of yarn), and the power consumption is 22KW (11KWX2) / hour (equivalentto within 175KWH / ton of yarn), which greatly reduces the noise of simple yarndrying.
空气过滤净 Air filtration
This machine adopts advanced foreignfiltering devices and multiple filtering to ensure that the air entering thedrying room is clean to the predetermined requirements, to prevent dust,impurities and other particles from contaminating the bobbin yarn, which playsa very good effect of drying noise to the light color tube yarn.
Technical data
Oven Dimensions: L * W * H (mm): 4000*1800*2600
Operating temperature: 85 ℃ -110 ℃
Working steam pressure: 0.3-0.5Mpa
The number of yarn drying: bobbin loading770 only
Drying time: cotton yarn 2.5-3 hours / time
Total power: 55KW
Dryer weight: 4500Kg
Heater: (1) steel composite aluminum (2)Alice-type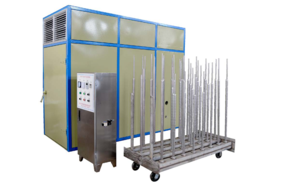 Dehydrator
HS series Automatic Hank Dewaterer
Characteristics
● High-qualitystainless steel in and out cage, long lifetime
● Large capacity,High dehydration rate, low power
● Reliableautomated system using advanced frequency control, automatic timing, automaticbraking, speed can be set as required
● Machine lampswitch protection device to ensure the safety of the operation and lifetime ofthe body
● Fully automaticfrequency variation control, avoidance of mechanical brakes, greatly reducingthe rate of mechanical maintenance
● Super quietbalancing, creating the best working environment.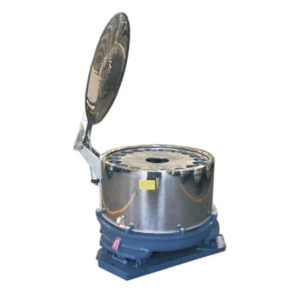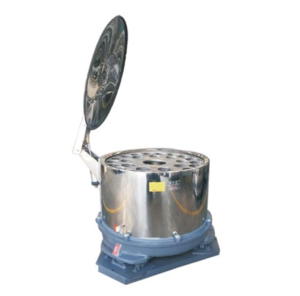 HS Three column AutomaticFrequency Hank Dewatering
Characteristics
Compared with the ordinary handbrakedewatering machine, advantages of variable frequency dehydrator Is fullyautomatic frequency variation control avoidance of mechanical brake, greatlyreducing the mechanical repair rate. The automatic control system adoptsadvanced and reliable frequency conversion control to automatically timing, andthe automatic brake speed can be selected and set as required, which saves power.
Technical parameters