Segment Dyeing Machine

Segment Dyeing Machine Skein Dyeing Machine
Fastidious design, colorful multi-spaced dyeing yarn (section dyeing)
This machine is advanced dyeing equipment developed in domestic in absorbing dyeing technology of Taiwan and Italy.
It is suitable for cotton, wool, silk,linen, chemical fiber and various mixed multisegment dyeing. The mechanism isingenious in design, convenient to operate, low in energy consumption, low indyeing bath ratio and low in sewage discharge. No environ mental pollution,especially suitable for the development and production of new products ofknitted garments and woven fabrics in small batches and varieties.
In addition, the electric control system ofthe machine has strong anti-interference ability, accurate timing and reliablework, which is a solid guarantee for the machine to achieve automatic control.
技术特性:
Power requirements: 380V / 50HZ / 100A
supporting plate size: 1135 * 630
Theoretical output: 800KG /
class Multi-color specification: 4 colors, 6 colors and 8 colors
Total power: Approximately 17.5 KW
Total weight: about 2500KG
Floor Area: 5000>5 000MM
Main structure and power equipment:
Each of eight singleunit square chemicaltanks is equipped with a 200W stirring motor
Eight sets of dyeing liquid distributiondevice: Each infusion device is equipped with 8 infusion pumps of 65W

Vacuum dyeing one host: equipped withquantitative infusion device with stainless steel small dye tank; the liquidlevel is kept over the circle; the multi-color segment is over the circle andthe suction tube device can be adjusted at will.
The positioning of the yarn tray iscontrolled automatically, and the whole machine is automatic.
Program-controlled dyeing mechanism
Vacuum system: equipped with 15KW vacuumpump and corresponding vacuum tank, the vacuum degree of air control valve isautomatically controlled.
Monitor control operation box.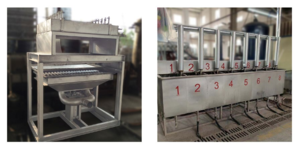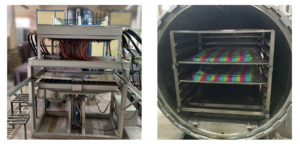 Dyeing machine
This machine is applicable to small batchdyeing cloth proofing, have low bath ratio, low energy consumption, high degreeof automation, to adapt to the characteristics of variety, can directly use thenormal production process, the integration of design and installation isconvenient cover an area of an area small, only need to link to thecorresponding power supply, water, steam and drain after the equipment can benormal use.
The machine uses a new nozzle, Teflongrating and expansion of the system, each tube maximum capacity of up to 500kg,bath ratio of 1: 5.5 ~ 1: 8, It is the most popular large capacity environmentalprotection dyeing machine in today's market.
主要技术特点:
1.容量大:每管装载量混纺布可达500kg左右,纯棉布450kg左右。
2.浴比小:当每管产量500kg时,浴比1:5.5。
3.环保型:低耗水量,低耗能,低排放量,低耗电量。
4.效果好:优质的扩布装置,织物呈现松弛状,无折痕,成品处染效果好。
5.适应范围广:适合50g/米~800g/米的化纤、纯棉、超纤、混纺织物,对800g/米左右的毛装饰布也能达到满意的染色效
6.布速调整范围: 0-350m/min 7.浴比: 1:5.5-1:8
8.最高工作压力: 0.44Mpa 9.最高工作温度: 140℃